Latest News
Grayshott Angling Club AGM 2020
A note for all members diaries, our annual AGM will be held on Thursday 26th March 2020 at our usual venue, The Royal British Legion Club, Headley Road, Grayshott, GU26 6TZ starting at 8.00pm. Further details will be made available in due course.
2020/21 Trout Fishing
The River Wey offers some of the best wild Brown Trout fishing there is in the region and the two stretches of the River Wey controlled by Grayshott Angling Club are an excellent example of this. Both the Wrecclesham and Mellow Farm stretches offer what could only be described as the best value wild Brown Trout fishing on the River Wey; for as little as £75.00 (£65.00 membership and £10.00 joining fee) you have unfettered access to some 3 miles of true chalk stream fishing between April and September. For further details contact the club via our website contact page.
Bumper Roach Catches at Waggoners Wells
End of season Roach catches are booming at Waggoners Wells, so get yourselves down there before the end of the season. Widely recognised as one of the areas premier roach fisheries the venue is regularly turning up double figure catches with plenty of specimens well over the 1lb mark. So ignore the cold weather, don your thermals and get down there before the season ends.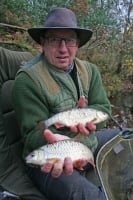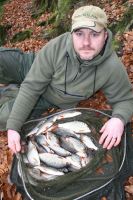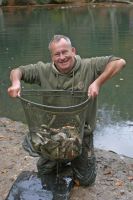 Adrian, Aaron and Duncan enoying the Roach sport at Waggoners