Latest News
Blacknest Golf Club pond now open
As of 29th March 2021, the pond at Blacknest Golf Club is open for fishing to both GAC members and day tickets anglers.
Day tickets for Waggoners Wells (NOT AVAILABLE UNTIL 16th JUNE 2021)
In addition to buying a day ticket for Waggoners Wells on-line or from Bordon Angling Centre, they can also now be obtained from the Grayshott Post Office in Crossways Road. They can also supply one day Environment Agency Rod Licences for those occasional anglers
Lockdown 3 - COVID 19 (Update 9th January 2021)
As you may be aware, after initially stating that fishing would not be allowed during 'Lockdown 3', the Angling Trust and other interested parties, have managed to persuede the Government otherwise and therefore all Grayshott Angling Club waters, with the exception of Blacknest (as golf courses remain shut) are open to members (and day ticket holders in the case of Waggoners Wells). Full details can be found here Please do read this as it contains important guidance that we must adhere to if we don't want to lose this privilege
Are you looking for a Christmas present idea?
I am sure any member who attended our 2019 AGM will remember the excellent talk given by Trevor Harrop about the Avon Roach Project (ARP). Trevor and his partner, Budgie Price, have now published a book about the project which would make a great present to receive or give this Christmas. Further details about the book, including how to obtain a copy, are available by clicking here, which will open a press release about it's publication.
Cancellation of 2020 AGM
Please note that due to the Coronavirus pandemic the 2020 AGM has been cancelled until further notice.
2020/21 Trout Fishing
The River Wey offers some of the best wild Brown Trout fishing there is in the region and the two stretches of the River Wey controlled by Grayshott Angling Club are an excellent example of this. Both the Wrecclesham and Mellow Farm stretches offer what could only be described as the best value wild Brown Trout fishing on the River Wey; for as little as £75.00 (£65.00 membership and £10.00 joining fee) you have unfettered access to some 3 miles of true chalk stream fishing between April and September. For further details contact the club via our website contact page.
Bumper Roach Catches at Waggoners Wells
End of season Roach catches are booming at Waggoners Wells, so get yourselves down there before the end of the season. Widely recognised as one of the areas premier roach fisheries the venue is regularly turning up double figure catches with plenty of specimens well over the 1lb mark. So ignore the cold weather, don your thermals and get down there before the season ends.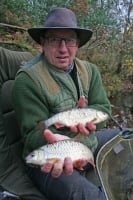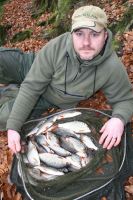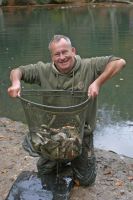 Adrian, Aaron and Duncan enoying the Roach sport at Waggoners