Latest News
Limited reopening of waters
As of Wednesday 13th May 2020 restrictions put in place to tackle the Covid-19 pandemic have been slightly eased and thus now allow angling providing you observe social distancing measures.An update about each of our waters is as follows;
Waggoners Wells

. The lakes are owned by the National Trust who stipulate that the 'close season' is maintained on these waters so fishing won't commence before 16th June at the earliest regardless of the restrictions. If there is any change to this date we will update you in due course.
Hollywater

. This is another National Trust owned water and therefore the above applies at this venue too.
Damson Pond

. This water will be open from Thursday 14th May. As it is a small water with limited swims, we have decided that, initially at least, we will restrict access to TWO members at a time and that you'll need to 'book' your place in advance by calling John Gunton-Bunn on 07512 316922.
Blacknest Golf Club

. This water will remain closed at the current time whilst we negotiate access with the owners.
River Wey; Wrecclesham

. This water is open to fly fish for trout by members who have paid the supplement to do so.
River Wey, Mellow Farm

. This water is also open to fly fish for trout by members who have paid the supplement to do so however the owner has requested that anyone going there, does so alone and that you leave your membership card in view when you park your car. On the subject of parking please do not park on Heath Hill or block any access points into fields or footpaths from the surrounding lanes. The best places to park are in either of the water board lay-bys in Smithy Lane, the bottom of the byway (shown as a footpath on our map) where it joins Picketts Hill or at the junction of Frensham Lane and Smithfield Lane.
Closure of ALL waters
Due to the COVID-19 (Coronavirus) pandemic ALL Grayshott Angling Club waters are closed until further notice in line with Government Policy
Cancellation of 2020 AGM
Please note that due to the Coronavirus pandemic the 2020 AGM has been cancelled until further notice.
Grayshott Angling Club AGM 2020
A note for all members diaries, our annual AGM will be held on Thursday 26th March 2020 at our usual venue, The Royal British Legion Club, Headley Road, Grayshott, GU26 6TZ starting at 8.00pm. Further details will be made available in due course.
2020/21 Trout Fishing
The River Wey offers some of the best wild Brown Trout fishing there is in the region and the two stretches of the River Wey controlled by Grayshott Angling Club are an excellent example of this. Both the Wrecclesham and Mellow Farm stretches offer what could only be described as the best value wild Brown Trout fishing on the River Wey; for as little as £75.00 (£65.00 membership and £10.00 joining fee) you have unfettered access to some 3 miles of true chalk stream fishing between April and September. For further details contact the club via our website contact page.
Bumper Roach Catches at Waggoners Wells
End of season Roach catches are booming at Waggoners Wells, so get yourselves down there before the end of the season. Widely recognised as one of the areas premier roach fisheries the venue is regularly turning up double figure catches with plenty of specimens well over the 1lb mark. So ignore the cold weather, don your thermals and get down there before the season ends.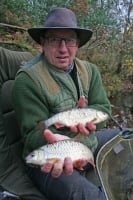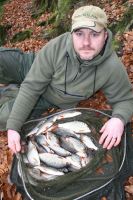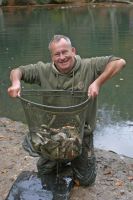 Adrian, Aaron and Duncan enoying the Roach sport at Waggoners