Latest News
Grayshott Angling Club AGM 2018/19
A note for all members diaries our annual AGM will be held on Thursday 28th March 2019 at our usual venue The Royal British Legion Club, Headley Road, Grayshott, GU26 6TZ starting at 8.00pm. Further details will be made available in due course.
Hollywater Lake Tree Removal
The fallen tree on the dam head at Hollywater Lake will be removed by a professional team of tree surgeons on Wednesday 13th February, as there will be a large degree of activity and heavy machinery being used the venue will be closed both anglers and the public alike until the works are complete.
2018/19 Trout Fishing
The River Wey offers some of the best wild Brown Trout fishing there is in the region and the two stretches of the River Wey controlled by Grayshott Angling Club are an excellent example of this. Both the Wrecclesham and Mellow Farm stretches offer what could only be described as the best value Wild Brown Trout fishing on the River Wey, for as little as £75.00 (£65.00 membership and £10.00 joining fee) you have unfettered access to some 3 miles of true chalk stream fishing between April and September, for further details contact the club via our website contact page.
New Club Members 2018/19
At Grayshott Angling Club we are always looking at ways to enhance your Angling experience, therefore as a prospective or new member of the club the opportunity to visit and view our venues can always help by saving time wasted trying to find places to park, where can I fish etc.
If you would like a tour of our waters please get in touch by contacting the Chairman Michael Langford who's details are on the contact page and we will be happy to arrange a venue visit.
Grayshott Angling Club 2018 AGM
Grayshott Angling Club will be holding our annual AGM at the usual venue "The Royal British Legion Club, Headley Road, Grayshott, GU26 6TZ" on the evening of Thursday 29th March. The evening promises to be an interest packed event culminating in a talk on"drop shot fishing" the latest craze to sweep fishing, local expert Alex Clements a member of the highly successful Drennan Bordon Angling Team will reveal all, so make sure you make a note in you're diary.
Bumper Roach Catches at Waggoners Wells
End of season Roach catches are booming at Waggoners Wells, so get yourselves down there before the end of the season. Widely recognised as one of the areas premier roach fisheries the venue is regularly turning up double figure catches with plenty of specimens well over the 1lb mark. So ignore the cold weather, don your thermals and get down there before the season ends.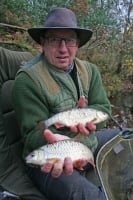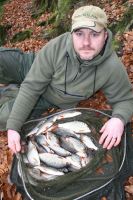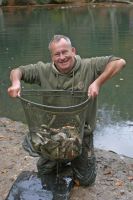 Adrian, Aaron and Duncan enoying the Roach sport at Waggoners
Grayshott Angling Club Boosts Fish Stocks at its venues.
The Grayshott Angling Club have continued to improve the fishing at all of our venues, in recent weeks and in partnership with the Environment Agency a substantial stocking of healthy Roach (500+) has taken place on our stretch of the River Wey at Wrecclesham. In addition a the long awaited stocking of Crucian Carp which has taken place at Waggoners Wells Lakes with 200+ healthy specimens being introduced to the top lake.
Electrofish at Wrecclesham proves the venue is improving in leaps and bounds
The EA recently undertook a detailed study of the clubs Wrecclesham stretch of the River Wey. Good numbers of all species were found throughout the stretch both upstream and downstream of the road bridge. In particular the Roach stocks have increased substantially assisted by the introduction programme undertaken over the last 5yrs or so with specimens well in excess of 1lb being netted.
Waggoners Wells Day Tickets
Anglers wishing to visit Waggoners Wells and purchase a day ticket now have two ways in which this can be achieved via local tackle shop "Bordon Angling Centre" or online via the GAC website, please visit our shop page for further details.
Waggoners Wells Working Party

Members gathered on Saturday 21st May to carry out essential works to tidy up the fishing swims around the lakes with ten members making short work of the tasks on the day, special thanks to Graham Taylor of "Graham Taylor Tree Surgeon Services who volunteered his services on the day. In addition the National Trust team ably led by Jim Avenell the local NT Ranger have almost completed the fishing swim rejuvination on the two lakes, once complete we will have some thirty or so top quality areas to fish from.........role on the 16th June !
Haslemere Charter Fair - 2016

The club once again supported the bi-annual Charter Fair for the third occasion providing visitors with an insight into the clubs work to rejuvinate its venues not only for the fish but other wildlife as well. The club also uses the event as its launch pad for the forthcoming family open day which is held at Waggoners Wells lakes near Grayshott more details of the open day will be provided shortly.
Working Parties
The club organises a number of working parties across the majority of its venues to improve access and the next key date for your diary is Saturday 21st May when members wil be gathering to carry out essential works at Waggoners Wells Lakes to prepare the fishery for the start of the new season. Meeting in the car park at 8.00am we aim to be completed by 12.00pm that day. All are welcome, stout footwear is recomended along with some gloves and normal garden tools used for trimming shrubs and the like such as loppers, bow saw etc. Contact the Chairman Michael Langford on 07974 255071 for more details.
Coaching New Anglers
Thinking of becoming an angler or have youngsters keen to learn more?
Getting started with any new sport can be daunting and expensive especially if you have no angling knowledge or experience, Grayshott Angling Club are always happy to provide coaching sessions for Anglers of all age groups. Ensuring you understand the basics of water craft, basic techniques, methods plus do's and don't. To find out more get in touch via our contact page for more details.